NO APPOINTMENT NEEDED VIDEOS LET YOU DEMO THE TIMEINATOR NOW
You don't need to wait for an appointment if you want to demo The Timeinator professional restaurant timer on your own. Watch the Demo Videos on this page and immediately begin checking things out.  You can even begin modifying the demo to your own restaurant as part of the Video tutorials.
Every page in The Timeinator has an information icon that will show you the Video Library Tutorial containing that pages simple setup and operation. Should you need a pointer or two? Sign up for a FREE demo appointment. 
TIMEINATOR'S DEMO BY VIDEO STARTS HERE
Introduction to the Video Guided Demo Process
The Timeinator video demo process begins with a simple, ready to use demo account. Quickly create an account and begin using The Timeinator without having to set anything up or having to wait for an appointment. No sales people needed and no pressure to buy. Watch The Timeinator videos at your convenience and pace. Our simple and easy to understand video format is presented step by step, so it is perfect to pause and follow along with. The demo restaurant that we provide for your to try, quickly customizes to become your operation.
No Android device? No problem... Demo The Timeinator using BlueStacks.
The Timeinator was built to use on Android tablets and will not work on IOS… However, you can DEMO The Timeinator without an Android device if you have a PC by downloading and using BlueStacks Android emulator. Watch this 3 step video & we will show you how!
Create your account with Google or by using an email address. Verify the account via your email address and you will have a functional demo account, setup and ready to explore. When you have finished exploring, subsequent videos teach you how to quickly customize the demo restaurant into your restaurant.
Explore The Timeinator's Basic Functionality
This video takes you step by step through the operation of The Timeinator. The video was designed for you to watch and follow the instructions step by step. This is the same instruction process provided when we meet customers for online training and setup. The beauty of video guided instruction as opposed to live is that you can pause the video, rewind and watch again when you need to and stop to take a break when you need one.
How to Customize the Equipment Library
Customizing and editing the equipment library is the place to begin turning the demo restaurant, into your restaurant. Easy step by step instructions will turn you into a Timeinator pro in minutes.
How to Customize the Menu
The great thing about having a demo that starts you off with a variety of types of restaurant foods is that you now have a foundation to customize to your restaurant menu. Quickly change the item names, cooking times, cooking instructions, pictures, background colors for all the items in the demo and in minutes, the demo menu has been customized to your menu. Additionally, you just did your set up for free… Still want our help? That's ok too. Especially if you need help with more complex setups!
Customizing Cook Stations
Cook Stations are the different areas of your kitchen or your restaurant in general. Set up a fry station and have a separate station for your grill. Pizza Ovens typically use an entire cook station… Create a station to monitor janitorial tasks or to track times for buffet lines and holding cabinets. People are constantly finding new ways to monitor cooking, tasks and more. With The Timeinator you are not limited by anything other than your imagination.
Upgrade to a Paid Basic or Premium Plan
The demo of The Timeinator's Basic Plan is free for you to play with, learn on, customize, and use in your restaurant for 14 days. If you would like to add more than 10 menu items, use more than one tablet at one time, have access to shift and employee reporting and use The Facilitator Expo Management features, you will need to purchase a premium plan.
THE FACILITATOR EXPO MANAGEMENT
Expo is typically where the front and back of the house collide!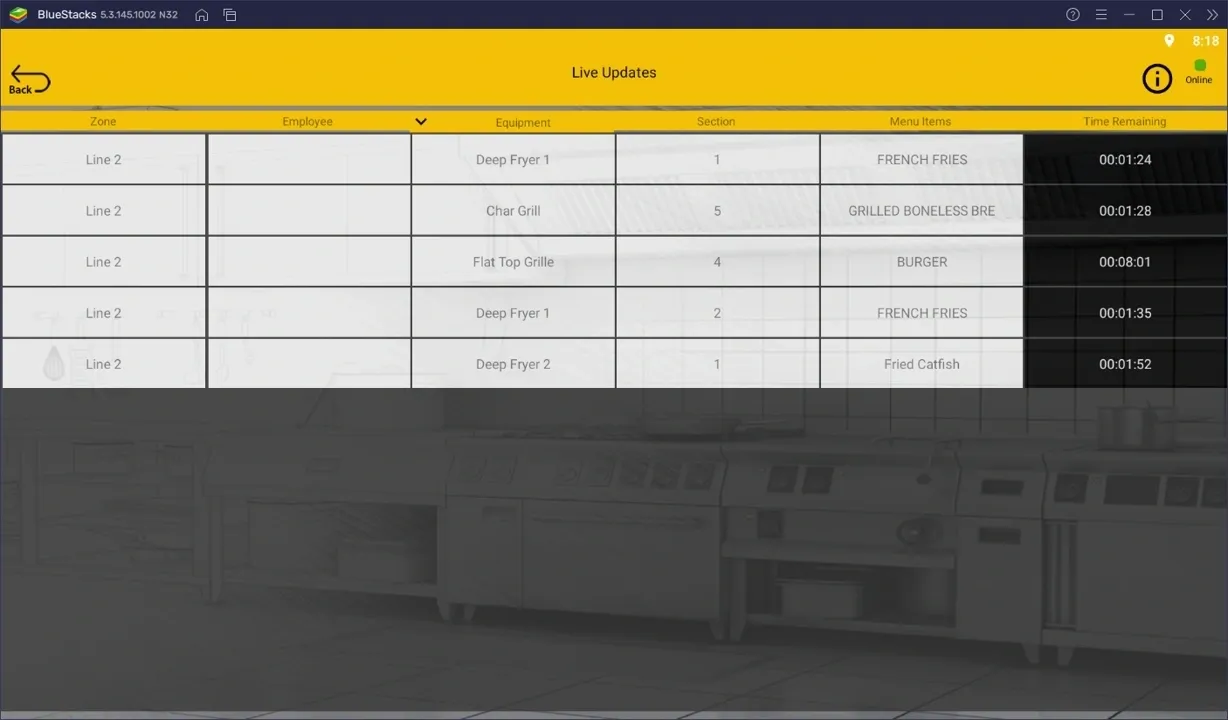 How many times do you hear the front of the house yelling how much longer do I have to wait for something? Feeling get hurt, people feel disrespected, but most importantly, a customer is waiting for that food!!! The Facilitator shows every items being timed on the digital kitchen timer, anywhere in the kitchen on an organized, easy to read tablet. Catch missed items before all the other meals are presented and ready to serve… Remind your staff an item your waiting for is ready. Most importantly, enjoy the Zen.
NO ANDROID DEVICE? DEMO OUR DIGITAL KITCHEN TIMER WITH BLUESTACKS