FREE DEMO & SETUP OPTIONS
We designed The Timeinator to be easy to setup, learn and use. Follow our video guided setup for step by step instruction… Start with a preset free demo account, the demo menu and equipment are quickly deleted, customized and added to. You will become an on the fly expert!
Start with a FREE Online Demo
Video instructions scare you a little? No problem… Most users are comfortable enough by the end of this demo, to follow our FREE, Video Guided Setup. Should you decide that you would like us to set up your account, we also offer professional setup services for a fee.
Setup an appointment for an online, free demo, complete our easy setup forms (email these and your current menu to us), and pay our $299 setup fee (via secure email link)… Our experts will go to work getting all the basics of The Timeinator in place. Typically, a follow up call is needed for refinements. Our base fee includes up to 4 hours of professional setup and training. Additional hours will be billed at $50 per hour if more time is required.
TIMEINATOR'S 3 STEPS TO SETUP
Quickly organize all the required information
Regardless of choosing video guided setup or professional setup, certain information is needed to customize The Timeinator to your business… Download the 3 PDF documents below, fill in the required information regarding your menu, your equipment and your facility layout. Use these forms yourself or email them to sales@timeinator.app along with a copy of your menu. You will need to pay for professional setup and schedule your setup meeting before we begin…
Get Organized with our Menu Setup PDF
Provide the names of all menu items that you would like included in this set up, the names of the cooking equipment used to cook the items and the overall cooking times for the menu items.
Provide any cooking steps that you would like The Timeinator to provide instruction for throughout the overall time. Please keep the verbiage for instructions short, for example FLIP, SHAKE, ROTATE, CHECK, TEMP… etc. You must also indicate the time in the cooking process that you would like the instruction to trigger, for example, SHAKE FRIES – 2:00 means that you would like the instruction to shake a fryer basket 2 #1 #2 minutes into the overall cooking time. Additional steps are no problem…
The example on the PDF shows a Hamburger with a total cook time of 6 minutes. Staff should flip the burger 3 minutes into the cook time, check to see if the burger needs cheese at 4:45 into the cook time and check the overall doneness 30 seconds early…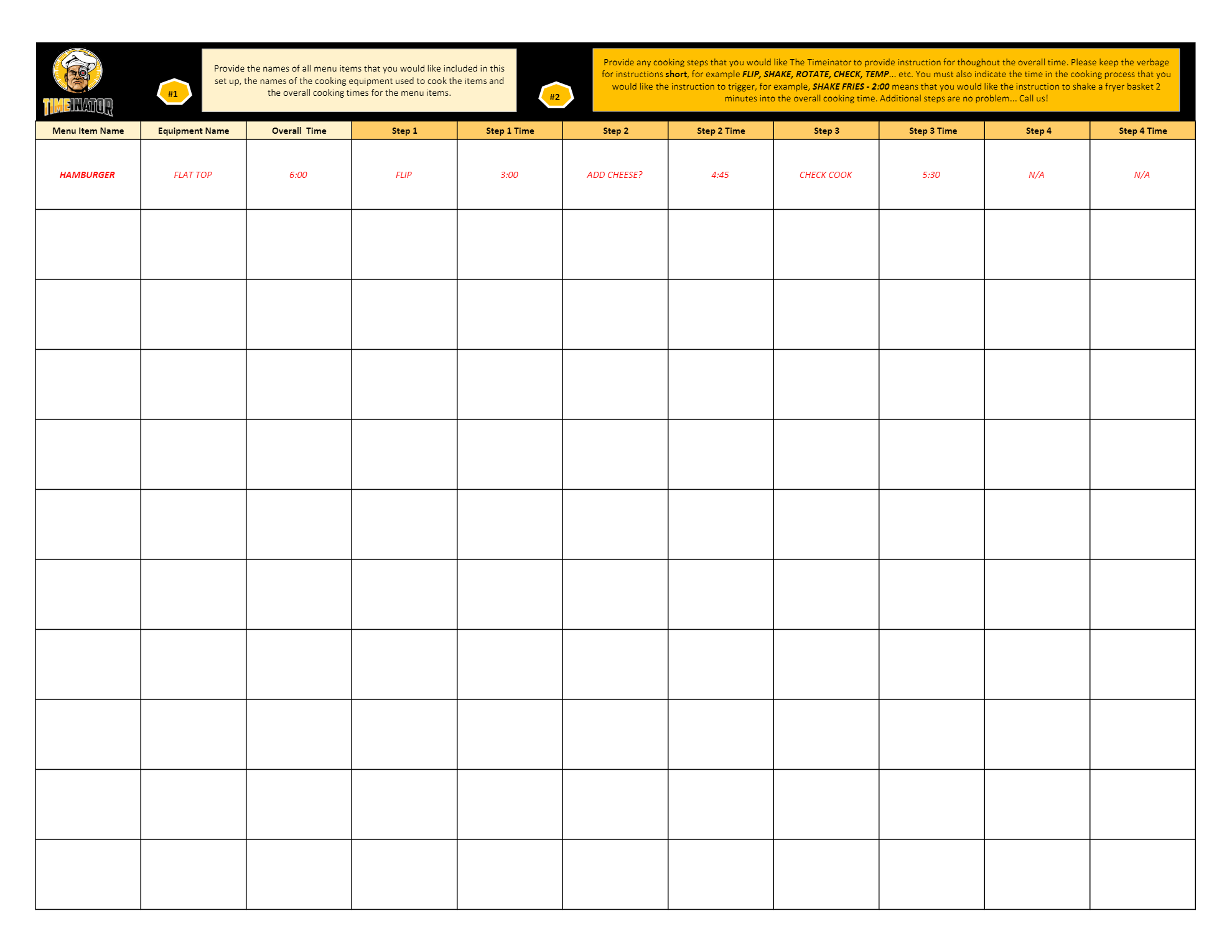 Get Organized with our Equipment Setup PDF
Provide the names of anything within your facility that you would like to set up a timer for. This can be kitchen cooking equipment, food holding equipment, mixers, buffet lines, janitorial areas… Literally anything!
Please also let us know how many timers you would like for each item. (For example Flat Top Grill –  6 Timers) Your limit is 12 timing zones for each.
The following examples are on the PDF:
STOVE TOP BURNER- 6 TIMING ZONES – CONFIGURATION 2 X 3, 
FRYER 1 (2 BASKET FRYER) – 2 TIMING ZONES – CONFIGURATION 1 X 2
FRYER 2 (2 BASKET FRYER) – 2 TIMING ZONES – CONFIGURATION 1 X 2
2 DRAWER WARMER – 2 TIMING ZONES- CONFIGURATION 2 X 1 
Another example for your to consider might be a New York Pizza Oven… One way that we can set up the configuration so that you have multiple timers for each deck of the oven. Maybe you have 3 decks and would like to cook 4 items in each deck? There is not right or wrong way to set up the timers… It is all up to your personal preference… If you get stuck, give us a call and let's talk about it!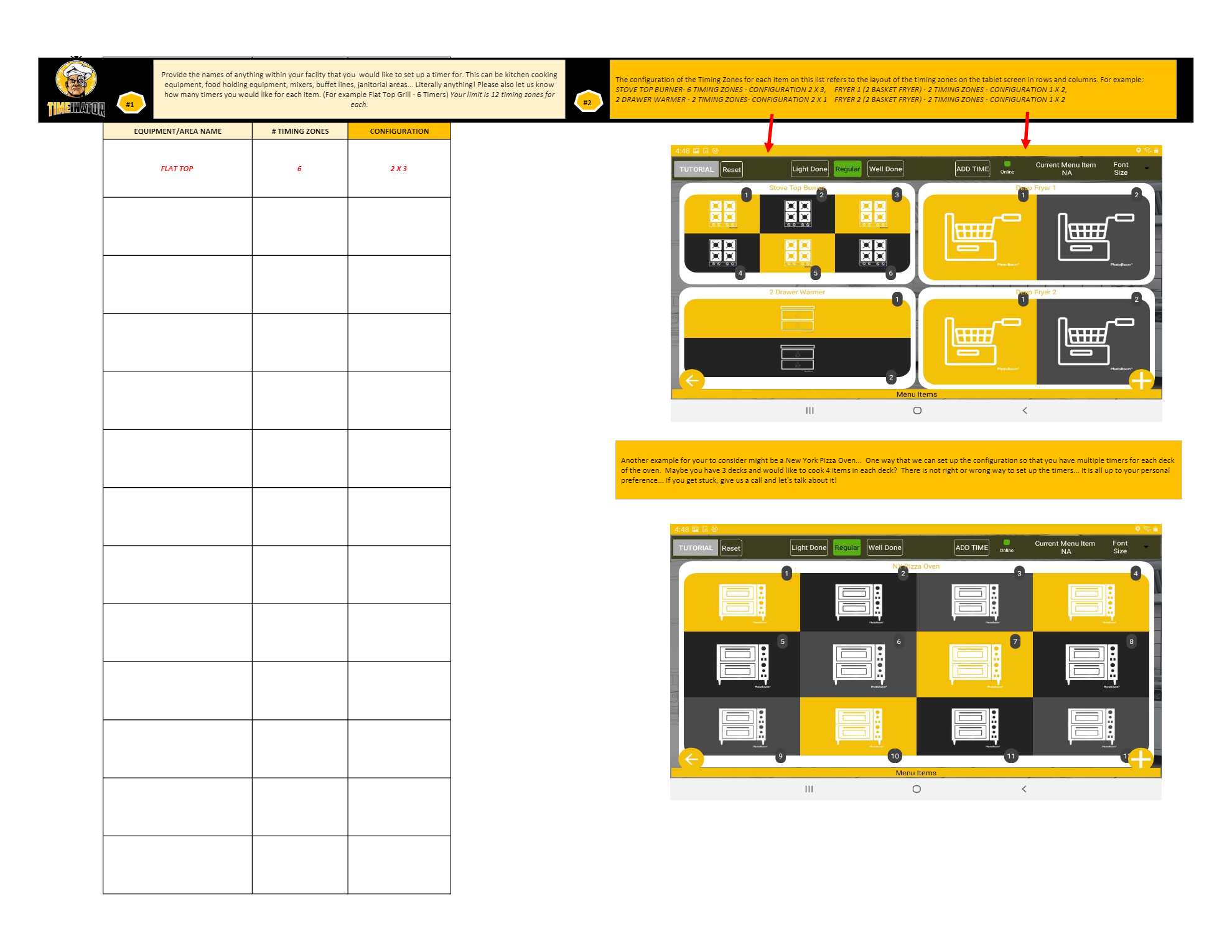 Get Organized with our Facility Setup PDF
Cooking Screens refer the the layout of each of your tablets.  Everything is customizable, but it is best to not overcrowd each tablet screen.  Think about where you will place each tablet (remember these plug in) and then consider what you want to time on each tablet? Please fill out a separate form for each screen layout you want designed.
Please review the sample kitchen.  There are too many pieces of equipment for one tablet screen (we could squeeze them in, but it would be too small to touch and see). We have chosen to set up two tablets for use in this kitchen.  Please remember that it is super easy to modify any layouts, so if something doesn't work, you can play around and be creative.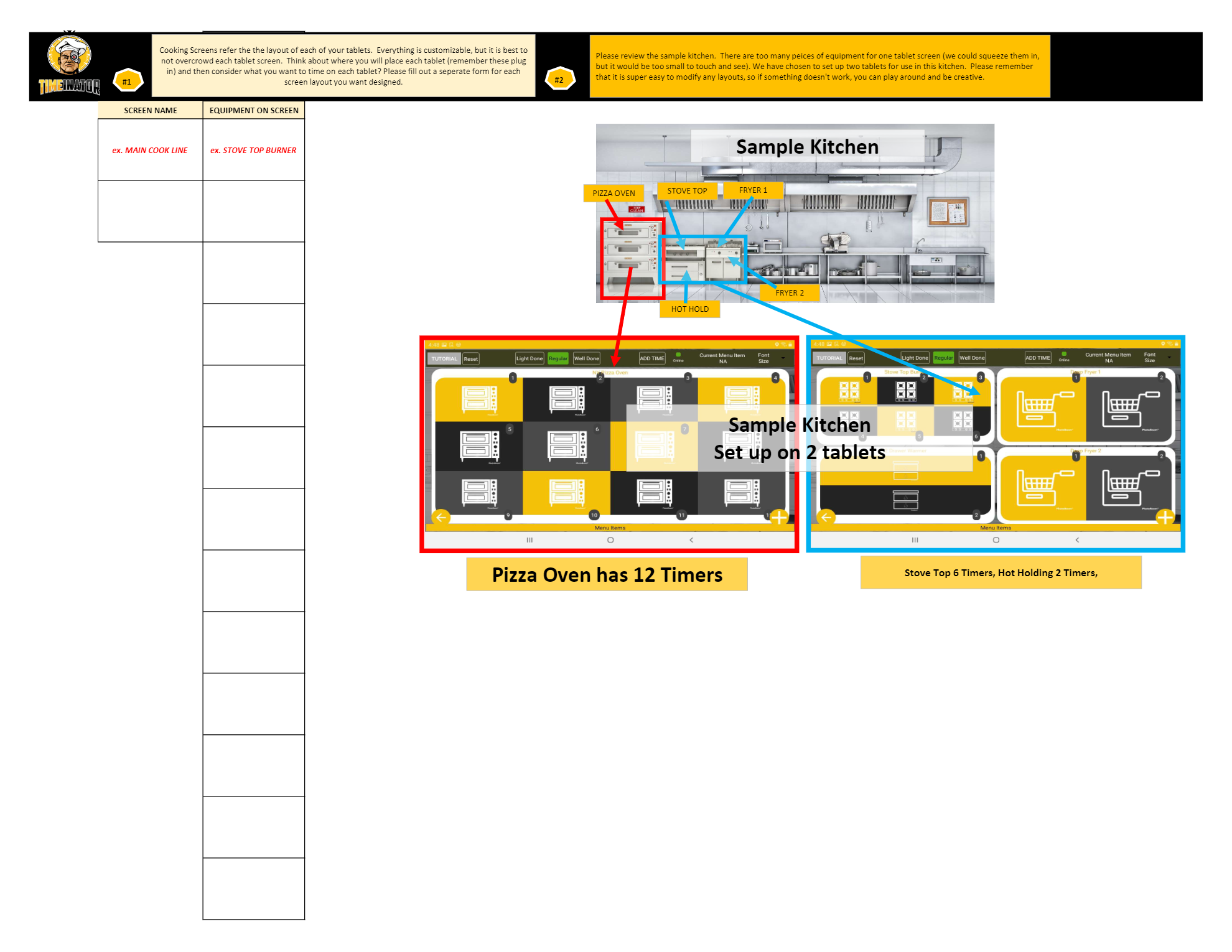 GET TIMEINATOR ON GOOGLE PLAY